Yonge Street Pioneers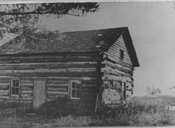 Pioneer log home in the Richmond Hill area.

Of all the European settlers who might qualify as the first to put down roots along Yonge Street within the boundaries of modern Richmond Hill,Balsar and Katharine Munshaw probably shared the most unusual name. An American colonist of German origin, Balsar started life with the grandiloquent eighteenth-century moniker of Balthasar Mundschauer. After some sort of bitter dispute with his father, he apparently decided to Anglicize his name, uproot his young family from their Pennsylvania home, and seek out new land north of Lake Ontario.

Balsar and Katharine and their five children - John,George,Jacob,Betsy, and Polly - embarked on the long journey by covered wagon from Pennsylvania to Upper Canada, finally trekking north up Yonge Street in the spring of 1794. They passed beyond the present Richmond Hill town centre and camped along a tributary stream of the Rouge River that later supplied water power for the industries of Elgin Mills.
"The Founding of Richmond Hill." Unveiling of an historical plaque in front of the town hall on Yonge Street, June 18, 1973. Pictured left to right are councillors David Stephenson and Louis Wainwright; regional councillor Gordon Rowe; councillors André Châteauvert and Graeme Bales; mayor William Lazenby; councillors Charles Stewart and William Corcoran; William Ormsby of the Archaeological and Historic Sites Board of Ontario; Patricia Hart, chief librarian and local historian; Russell Lynett, retiring town clerk; William Neal, first mayor of the Town of Richmond Hill; Robert Warner, chairman of the Centennial Committee; Garfield Wright, chairman of the Regional Municipality of York;Reverend Earl Gerber of St. John's Anglican Church,Jefferson; and regional councillor Lois Hancey."

Here their old friend, the Pennsylvania wagon, served them as a tent until a shanty of logs and bark was raised for the summer months," wrote William Harrison,Richmond Hill's first historian. "It being the month of May a clearance was made around the cabin, seeds planted and preparations made for a lengthy stay. That summer the Munshaws' sixth child was born, a daughter called Susan, the first white child born in the Township of Vaughan and the first on Yonge Street."1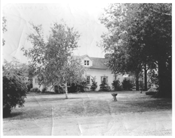 Nineteenth-century home of Balsar and Katharine Munshaw at the southeast corner of present-day Yonge Street and Highway 7.

But Balsar and Katharine Munshaw found their Elgin Mills site too lonely, and soon moved south to be nearer other white settlers. They took up permanent land on Lot 35 of Markham Township, the southeast corner of present-day Yonge Street and Highway 7. Although this placed them outside the boundaries of modern-day Richmond Hill, several of their children would later play important roles in the development of the community.

If the Munshaws' stay was too brief for them to be called Richmond Hill's first settlers, the John Stooks family might qualify.

John C. Stooks, his wife, and two sons arrived in York at the end of June 1797, then travelled up Yonge Street to their land. At about the time Augustus Jones was gathering data for his report on Yonge Street, Stooks and family moved onto Lot 47 of Vaughan Township - the second lot north of present-day Major Mackenzie Drive on the west side of Yonge.

The Stooks family stayed longer than the Munshaws, but their contribution to the fledgling community proved more eccentric than substantial. Their house never progressed beyond log shanty status, and they cleared little land. The two sons lived in another log building to the west, and "spent most of their time in sporting and roaming with kindred spirits." But it was the father who proved most unusual. He was always restless, wrote Harrison, "ill at ease and wandering aimlessly about. Sometimes he would seem to be fighting with an invisible foe and would send out his cane with a sword-like sweep as if cutting down something before him, or use it as a bayonet stabbing something to the ground. The children were afraid to meet him, and the older ones tried to avoid him." 2

Yonge Street pioneer life ultimately proved too much for the John Stooks family to endure, for before long they gave up their property and, according to Harrison, "flitted elsewhere," leaving no descendants in the village. However, an Edward Stooks, thought to be a brother of John, took up Lot 48 immediately to the north, and in 1822 possibly constructed the frame building that was later part of 10370 Yonge Street.

Unlike the transitory Munshaws and the John Stookses,Hugh and Ann Shaw put down deep roots and remained. In 1798 the Shaws moved onto Lot 46 of Markham Township, the northeast corner of today's Yonge Street and Major Mackenzie Drive; four years later they received permanent title. The Shaws experienced considerable hardship in later years - including the loss of two sons during the War of 1812 - yet together, wife and husband possessed the fortitude and vision necessary to survive and prosper in a pioneer environment.

Consider Ann Shaw: "To save her loved ones from distress and help to bring about the turning point of success in their family history," wrote Harrison, she "would get up early in the morning and walk to Toronto along a half-opened road, climbing hills and wading streams, to do a day's work for some of the aristocracy, purchase her little stock of groceries, and return home in the middle of the night to relieve the wants of her suffering family. 3 And it was James Shaw, a son of Ann and Hugh, who was the first settler to subdivide his property and sell village lots a few years later. "Certainly I'll sell," he responded to his critics. "How can you make a village unless you sell lots?" 4

Through the last years of the eighteenth century and the opening years of the nineteenth, other lots were taken up along both sides of Yonge Street through the heart of the future village of Richmond Hill. North of the Shaw property on the east side of the road, Thomas Kinnear occupied Lot 48, William Jarvis Lot 49, and William McLennan Lot 50. Facing them on the west side of the street, in addition to the Stooks family, were Abner Miles on Lot 46 and Samuel Heron on 49. Like the Munshaws, Stookses, and Shaws, these other early families contributed their share of accomplishments and eccentricities to the local lore. Miles, for example, opened the community's first hotel and bequeathed his name to the rise of land first called Miles' Hill.Kinnear, on the other hand, passed into history as the town's most illustrious murder victim.

Farther north along the east side of Yonge Street,William Bond is identified as the owner of Lot 62, Whitchurch Township, in 1794, and three years later his name appears on Lot 63. While these properties might make him the first settler in the Oak Ridges area of Richmond Hill, Bond spent most of his time in York, running various business enterprises and continually trying to sell his Whitchurch properties for a profit. Nevertheless, his name remains attached to the body of water on his land - originally called Bond's Pond and later Bond Lake.

The Munshaws and Stookses, Shaws and Bonds - all these original Yonge Street pioneers were granted lots at the pleasure of the lieutenant-governor or the Executive Council of Upper Canada. Some received their lands as payment for past services to the Crown, either as veterans of British military service in Europe or as supporters of the Loyalist cause in America. Others were granted Yonge Street lots because they impressed the officials at York with their connections, their experience, or their potential to help develop the region.

Governor Simcoe'sYonge Street plan excluded any Crown reserve or clergy reserve lands and threw open every lot for permanent granting. This plan, Simcoe hoped, would result in a speedy settlement of his strategically important land route to Georgian Bay and the Upper Great Lakes. The lots were approximately two hundred acres (about eighty hectares) in size, with about a thirteen-hundred-foot (four-hundred- metre) frontage along Yonge Street and a depth of some six thousand feet (two thousand metres). Since most grantees built their first cabins close to the middle of their frontage, a pattern gradually developed along Yonge Street of houses on both sides of the road, some thirteen hundred feet (four hundred metres) apart.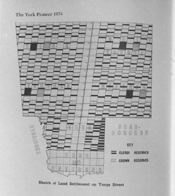 Land settlement from Lake Ontario to Newmarket along Yonge Street and to the east and west in Markham,Whitchurch,Vaughan, and King townships. The York Pioneer (Leo A. Johnson)

These settlers had to meet certain "Yonge Street conditions" in return for their free grants of land. "Unless a Dwelling House shall be Built on every Lot and the same occupied within one year," warned the surveyor general in 1794, "such lots will be forfeited." 5 Four years later, conditions were increased to require a house measuring at least sixteen by twenty feet (five by six metres), at least five acres, or two hectares, of land cleared and fenced, and brush removed from the settlers' half of the Yonge Street right-of-way. 6
Duties to be performed by Yonge Street settlers in 1798. Archives of Ontario

To keep the roads in order and to check that settlers cleared away the debris in front of their lots, highway overseers and pathmasters were appointed by the authorities at York.Nicholas Miller was one of those appointed as a "Fence-viewer and Overseer for Highway" in 1797 and 1798, and the following year John Lyons was made one of the first pathmasters, with power to require householders to put in specified hours or even days of work on Yonge Street.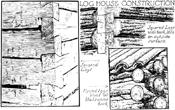 Log house construction. C.W. Jefferys,The Picture Gallery of Canadian History,Ryerson Press

"In general the land is excellent," wrote former surveyor general David Smith of Yonge Street in 1799, "and fit for every purpose of husbandry." 7 In early March of that year, the North West Company, the Montreal-based fur-trading enterprise, reportedly committed £12,000 to improving Yonge Street as its major transportation link between Montreal and the western fur country. The project, enthused the Upper Canada Gazette of York, would "benefit this country materially, as it will not only tend to augment the population, but will also enhance the value of landed property." 8

The Gazette's optimism was premature. Increased trade, bountiful prosperity, and rapid settlement proved harder to attain than Governor Simcoe, David Smith, or the Gazette imagined. Although the North West Company did send a few consignments for the fur trade along Yonge Street over the next ten years, the £12,000 never materialized and the company never formally committed itself to this new route. The Montreal traders who controlled the company preferred the traditional Ottawa River and Detroit routes.

A more fundamental problem lay with Governor Simcoe's rigid enforcement of settlement rules. One writer has argued that, while most of the lands had been assigned, settlers "proved reluctant to take up lands where neglect of settlement duties was so much under the governor's watchful eyes" and chose instead to settle farther back in the townships. Only eight of Vaughan Township's thirty-five Yonge Street lots were granted up to 1798, and by 1802 the number had increased to only thirteen, whereas in the second concession, some twenty of the twenty-five lots available (ten other lots were set aside as either Crown or clergy reserves) had been patented. 9

Along the entire length of Yonge Street, from York to Newmarket, provincial surveyor John Stegman counted only eighteen houses and eighty-nine clearings in 1801. For the most part the settlers had done their job of clearing away the trees cut down in front of their lots, although sometimes the clearing was done only to the middle of the road, as the settler on the other side had failed to carry out his obligations. "I am sorry to be under the necessity to add," concluded a disheartened Stegman, "that the most ancient inhabitants of Yonge Street have been the most neglectful in clearing the street." 10

Finally, the future community of Richmond Hill faced particular disadvantages compared to its southern neighbours, York Mills, and Thornhill.Richmond Hill's higher elevation, combined with its greater distance into the hinterland, made travel to and from the provincial capital at York more arduous. And since no important streams intersected Yonge Street in the core area of the present town, no mills - those important industrial magnets of pioneer Upper Canada - were built along the road through Richmond Hill itself. Closer to York, and with their streams and mills, York Mills and Thornhill began developing as communities, while the stretch of Yonge Street between Major Mackenzie Drive and Elgin Mills Road lagged behind.
Notes
1. William Harrison,"Richmond Hill and Vicinity, Number 3." (A series of historical articles written for the Richmond Hill Liberal in the 1880s and available in the Local History Collection of the Richmond Hill Public Library.)
5. D.W. Smith, Surveyor General's Office, July 15, 1794, in E.A. Cruikshank, ed.,The Correspondence of Lieut. Governor John Graves Simcoe(Toronto:Ontario Historical Society,1923-1931),vol. 2,p. 323.
6. Minutes of Executive Council, December 6, 1798, in E.A. Cruikshank, ed., Correspondence of the Honourable Peter Russell(Toronto:Ontario Historical Society,1936),vol. 3, p. 25.
7. David William Smyth (or Smith), A Short Topographical Description of His Majesty's Province of Upper Canada(London:W. Faden,1799),p. 25.
8. Upper Canada Gazette, March 9, 1799.
9. Leo A. Johnson, "Simcoe's Yonge Street and the Laying Out of the York County Reserve Lands,"in York Pioneer and Historical Society,The York Pioneer,1974,p. 36.
10. F.R. Berchem, The Yonge Street Story(Toronto:McGraw-Hill Ryerson,1977), p. 54.
---
Previous
Next
---
---
Copyright © Richmond Hill Public Library Board, 1991