Lieutenant-Governor Simcoe: The Man Who Planned Yonge Street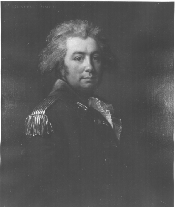 John Graves Simcoe, Lieutenant- Governor of Upper Canada, from a 1791 painting by Jean Laurent Mosnier. Metropolitan Toronto Reference Library

John Graves Simcoe was born at Cotterstock, Northamptonshire, England, in 1752, and was educated at Eton and at Merton College, Oxford. He served with the British Army through most of the American Revolution, commanding the Queen's Rangers from 1777 until he was invalided home in 1781. Elected to the British House of Commons in 1790 for the constituency of St. Mawe's, Cornwall, he was appointed the following year as the first lieutenant-governor of the new province of Upper Canada.

Simcoe and his wife, the gifted artist and diarist Elizabeth Posthuma Simcoe, arrived in Upper Canada in 1792. The governor chose Newark (now Niagara-on-the-Lake) as his first capital, then in 1794 moved the government offices to York (now Toronto). Simcoe's progressive immigration schemes and road-building policies boosted the colony's economic development, although his Tory views on class privilege and church-state relations contained the seeds for future discontent.

After leaving Upper Canada in 1796, Simcoe served as governor of the colony of San Domingo in the West Indies and as military commander at Plymouth. He died at Exeter, England, in 1806, before he could take up his appointment as military commander-in-chief in India.