Electric Lights for the Village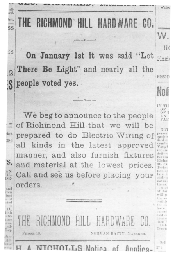 The Richmond Hill Hardware Company welcomes the arrival of electric lighting in 1912.

The Metropolitan Railway did not just bring Richmond Hill into the age of modern transportation; it also brought electric lights to the village. "This is an age of electricity," the local member of Parliament, W.F. Maclean, told the January 1897 complimentary banquet to celebrate the arrival of the radial line. "Electricity will change the whole tenor of social life," he prophesied. 11

Electrical energy was not an entirely new phenomenon in the Richmond Hill of 1897. For some years, village residents had benefited from two of its earlier applications - the telegraph and the telephone. Sanderson's Drug Store had served as the local telegraph office since the early 1870s, and to make a long-distance telephone call, villagers stopped in at Skeele's Jewellery Store after a phone was installed there in the late 1880s. Richmond Hill's first telephone exchange was established at Sanderson's in 1905; by March of the following year, twenty-five local listings appeared in an eastern Ontario telephone directory.)

But electric lighting was a much more dramatic and visible application of the new technology. With its generating station at Bond Lake and its utility poles and overhead wires stretching up and down Yonge Street as far as the eye could see, the Metropolitan Railway offered its surplus electricity for lighting and other energy needs.

In April 1897, the Metropolitan advertised its wares by turning on four electric lights in its waiting room at Yonge Street and Lorne Avenue - the first electric lighting recorded in Richmond Hill. That August, as a public relations gesture, the company supplied electricity to light the new bandstand in the park east of the station. 12

The village council responded to the innovations with considerable caution. Not until October 1906, nearly a decade after the lights were turned on in the Metropolitan waiting room, did council express an interest in obtaining electrical power for street lighting and other purposes. A special committee made inquiries through 1908, but council took no action. Only when the Fire and Light Committee took charge in 1911 did the movement gain momentum. A heady round of public meetings and enabling bylaws followed. Local stores began advertising electric lighting fixtures. 13
Tea in the garden, with lace tablecloth and all. Margaret McConaghy, left, and Effie (Hollingshead) Smith.

In August 1912, council met with representatives of the Toronto and York Radial Railway Company (the Metropolitan's successor) to discuss arrangements. The company proposed that power be supplied on a separate line from the Bond Lake powerhouse, and suggested that lighting could be turned on by the end of October. Thirty lights would be hung in the centre of Yonge Street, about six metres (twenty feet) above ground and thirty metres (one hundred feet) apart, while sidestreets would be lit at corners. Commercial and residential customers could be connected to the system. 14
Ready for a sleigh ride in 1902 at the Newbery family home, north of Elgin Mills. Pictured left to right are Jennie Newbery,Mrs. George Newbery with baby Eleanor,Maude Murphy,Katherine Newbery (Mrs. W.F. Carter), Grace Newbery (Mrs. D.H. Pinkerton), and Gertrude Murphy (Mrs. C. Kelson).

The scheme was workable, but as so often happened in Richmond Hill's municipal life, it took a while for the project to get off the ground. "The matter drags on in a peaceful sleepy way, characteristic of our Village past and present," charged Frank Todd in a letter to The Liberal. "Unless somebody or something suddenly sets the alarm clock and wakes everybody up, it will continue, I am sorry to say, in future." 15
Tennis at the Newbery home, circa 1900. Pictured left to right are George Newbery 2nd.,Grace Newbery (Mrs. D.H. Pinkerton), Oswald Newbery,Katherine Newbery (Mrs. W.F. Carter), Alex Newbery,Gertrude Murphy (Mrs. C. Kelson), and Jennie Newbery.

No one set an alarm clock, but progress was slowly made until, at 5:30 p.m. on Monday, December 30, electric streetlights came on in Richmond Hill.Savage's furniture store ("The People's Store") lit up that same evening; Sanderson's Drug Store and the Post Office turned on the juice the next night. 16 In March 1913, council established the Richmond Hill Electric Light and Power Commission, with Councillor J.H. Sanderson as its first chairman.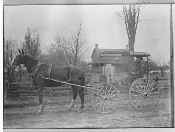 Josh Horner and his milk wagon in front of the Horner family home on Lot 20, Concession 2, Markham Township. Horner operated the first milk delivery business in the area.

Richmond Hill had caught up with the rest of urban Ontario, most of which had hooked up to electric power systems through the 1880s, 1890s, and early 1900s. By 1912, in fact, most municipalities were switching from private power suppliers to the new publicly owned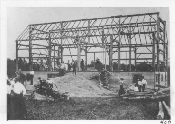 Harry Rumble's barn raising near Richmond Hill, July 28, 1908. One of the Rumble family farms later provided the nucleus for the Richmond Heights subdivision.

Hydro-Electric Power Commission of Ontario.

So Richmond Hill's decision to obtain power from the Toronto and York Radial Railway Company prompted criticism from certain outside quarters. Richmond Hill is being put on a side track," concluded the Toronto Evening Telegram.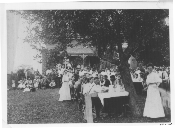 Supper at Harry Rumble's barn raising.

This "rising northern suburb" would now find itself "alien from the commonwealth of hydro-electric municipalities." After comparing rates, however, the hometown Liberal remained convinced that Council "have made a very good agreement" with the radial railway company. 17
Notes
11. The Liberal,January 28, 1897.
12. Ibid., April 22, and August 19, 1897.
13. Ibid., January 4,January 11, and January 25, 1912.
17. Toronto Telegram,December 12, 1912; The Liberal,December 19, 1912.
---
Previous
Next
---
---
Copyright © Richmond Hill Public Library Board, 1991