The Village that Was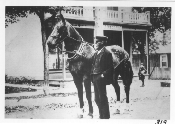 James Graham and "Barney," in front of Hall's grocery and general store, southwest corner of Yonge and Centre streets, circa 1915.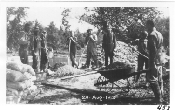 Fixing the dam at the Mill Pond.John Sheardown is pictured centre-right, behind the wheelbarrow.

Let us walk along Yonge Street with Dorothy McKenzie Rumble as she re-creates the village of her childhood. Dorothy takes us back to 1912, and makes frequent comparisons with the town of the late 1950s, as she records her impressions for the Richmond Hill Women's Institute history project.

Dorothy's memories of 1912 start at the Presbyterian Church, where both her grandfathers had taken a turn at being caretaker, and where she herself sang in the choir. Behind the church stood the old cemetery which was often visited by public school students at recess. "It was such an easy matter to jump the fence," Dorothy remembers.

Between the Presbyterian Church and the Public School back in 1912 were two shoemakers, Mr. Kennersley and Frank McConaghy, and a watchmaker, Jerry Smith. Immediately north of the school was the Post Office, whose venerable master, Matthew Teefy, had died the previous year. Next was the Palmer House Hotel, which later became the Arnold Apartments.

In the Lorne Block, Dorothy remembered "Aunt Mary Ross as she was known to many," and the harness shop of George McDonald. The next store was J.P. Glass's Butcher Shop, with the slaughter house in the rear.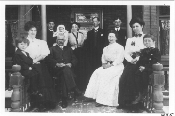 The P.G. Savage family of Richmond Hill, pictured in 1909. Left to right are Palmer (son of Will), Mrs. Will (Palmer) Savage,Armand with his son Peter,Susan (Mrs. Armand) Savage,Albert,William, and Mrs. Albert Savage with her son Keith. Seated are P.G. (Peter Gould) Savage and his second wife, Theodora Hillman Savage.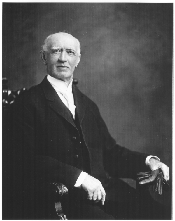 Dr. W.R. Pentland practised medicine in Richmond Hill from 1910 until he retired to California in 1919.

North of Glass's Butcher Shop - when Dorothy was a young girl - stood the hardware store of Jacob Eyer, which became the Rustic Inn. Next was Atkinson and Switzer General Store (later Fisher's). On the south corner of Centre Street was the grocery store of Joseph Hall (later the location of the Post Office). On the north side of Centre was a brick house, then the furniture and wallpaper store of P.G. Savage. Next came William Harrison's saddlery (later Isobel "Izzie" Hewitt's Wool Shop), followed by the Jesse Grant residence.

Dorothy continues north, making many comparisons between 1912 and the late 1950s. Where Craigie's store later stood was the home of Mr. Ellis, a house painter. On the former Sunoco lot was Abraham Law's original house, later the residence of his son-in-law, Amos J. Wright. Next was Fred Allen's home, where there was a magnificent garden (now the Langstaff Building). Richmond Hill High School, later incorporated into the town hall, stood at the corner of Wright Street.

North of Wright Street, Dorothy remembered five or six houses, then the blacksmith shop of George Cowie, then Dr. Langstaff's and three more houses, and the funeral home.

At that point, Dorothy turns around, retraces her steps back to the south end of town, and takes us across Yonge Street.

On the east side of Yonge a short distance north of Markham Road(Major Mackenzie Drive), opposite the Presbyterian manse, was the Brick Tenement, a long building with three units, once the home of Susannah Maxwell. A short distance north was the long red brick building which had been the Grand Central Hotel, and about 1911 was the Standard Bank and the office of H.A. Nicholls, who owned the building. North of this was a building which housed the offices of The Liberal. Then came the old Dominion Hotel building.

Trench's Carriage Works followed, and the Metropolitan Radial Station. Next to the station was the grocery store of Frank Sims, later Wilson's Barber Shop. The residence and store of Alex Moodie was next, and then Morley's Grocery Store and Skeele's Jewellers. A hardware store was operated by Mr. C. Soules, later Charlton's. Then Sanderson's, the Methodist (United) Church, the Masonic Hall,A.J. Hume's tailor shop, and a short distance north, H.H. Hopper's butcher shop.

North of Dufferin (later Dunlop Street) was David Hill's bakery. A small house stood between this and the Roman Catholic Church. Further north still was the home of Isaac Crosby.

Along the streets leading away from Yonge, on both the east and west sides of town, Dorothy remembers a rather sleepy village in 1912. "On the side streets were many vacant lots," she concludes, "a field or two often separating the houses."

Richmond Hill Women's Institute,"Tweedsmuir History"(Richmond Hill:1957),unpaginated