Roses Bloom in Richmond Hill
Aerial view of Richmond Hill's greenhouses in the 1930s, looking west from the Canadian National Railway tracks towards Yonge Street. The H.J. Mills greenhouses are top centre, the J.H. Dunlop greenhouses lower left, and the Bedford Park greenhouses to the right.

William J. Lawrence knew his plants and flowers well - his father had been a gardener, Lawrence himself established his own wholesale and retail florist business in Toronto in 1898, and he was elected president of the Canadian Horticultural Society in 1907. Lawrence fortunately also knew a lot about local politics and land development. For several years he served as a councillor in what was then the separate municipality of North Toronto and pocketed a nice profit by developing the suburban Lawrence Park neighbourhood.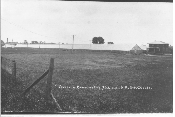 The William J. Lawrence greenhouses.

By the second decade of the twentieth century, Lawrence was running out of land close to Toronto for growing his flowers or for selling off as building lots. So in November 1911, for a price of $13,000, he purchased John Palmer's farm on the east side of Richmond Hill. There, on the village's sunny eastern slope, close to both Canadian Northern and radial railway shipping facilities, he planned to set up a greenhouse operation. Following his usual procedure, he decided that any extra land could be profitably marketed as building lots.

Lawrence's Richmond Hill complex quickly took shape through the summer of 1912. The Roseview Avenue site, near the Canadian Northern Railway station, was dominated by a huge greenhouse sitting along an east-west axis, 214 metres long by 27 metres wide (about 700 by 90 feet), providing about a hectare of flowers under glass. This greenhouse was heated by steam from a boiler house to the northeast. A third building, to the east of the greenhouse, provided cold storage facilities, a packing room, and an office. 3

When completed, Lawrence's Richmond Hill operation included five greenhouse buildings, covering about 9100 square metres (about 98 000 square feet). Under the glass he grew roses, carnations, chrysanthemums, and other choice flowers and plants which stocked his Toronto wholesale and retail sales outlets. As unassuming as they may have appeared, the roses helped put Richmond Hill on the map, for they won prizes at local and distant flower shows and drew delegations of visiting horticulturalists to town. As far as flower growers were concerned, all roads led to and from Richmond Hill once Lawrence developed an extensive mail-order business that served points throughout the province and beyond.

Yet all was not rosy for William Lawrence in Richmond Hill. In January 1913, a section of the roof of his largest greenhouse collapsed under the weight of the snow. In March, this same building was heavily damaged by strong winds. The following January, the manure building was damaged when a locomotive and carload of coal skidded off the end of the Canadian Northern Railway tracks. High winds in the spring of 1914 broke hundreds of panes of greenhouse glass and froze thousands of roses.

An equally severe setback was the one Lawrence experienced in the spring of 1913. The ever-cautious village ratepayers turned down a by-law that would have loaned Lawrence $5,000 of public money, interest-free for ten years, to help him rebuild after the snow and wind damage of the preceding winter. Discouraged by this turn of events, Lawrence ultimately sold his greenhouse complex to Ofield and Cotton in 1919. This new firm carried on as "rose specialists" through the 1920s, then became Richmond Roses in the 1930s.

Lawrence's contributions to Richmond Hill had extended beyond his own business. Not only did he attract visiting horticulturalists to the village, but in April 1913, he introduced a rival Toronto florist, John Dunlop, to village council. Dunlop was also considering opening a Richmond Hill greenhouse operation, and Lawrence hoped Dunlop could be induced to stay, since "it would be an advantage to the other florists here, as the demand was very great, and large orders often come if the customer can be supplied in one town." 4
The John Dunlop family.

Like Lawrence before him, John H. Dunlop was running a well-established wholesale and retail florist operation in Toronto. He, too, had served as president of the Canadian Horticultural Society and, like Lawrence, was running out of space near the city. He had already purchased property on the east side of town from Thomas Hodgson and Amos J. Wright as a possible new location. When village council agreed to a low, fixed assessment on the easterly two acres (about one hectare) if used only for greenhouse purposes, Dunlop made his move.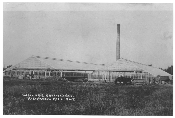 The John Dunlop greenhouses.

By August, Dunlop had two greenhousesnearing completion with plans for six more. As early as March 1914, fifty of his "Richmond Roses" won first prize at the International Rose Show in New York City, and by April 1915, he was shipping Easter lilies to Montreal and ten to twelve thousand carnations to various Canadian destinations weekly. The following April, his entries took three firsts and two seconds at the National Flower Show in Philadelphia.. 5

After John Dunlop's sudden death in September 1930, his Richmond Hill greenhouses were purchased by Harold Mills, who had begun his Richmond Hill greenhouse business the same year as William Lawrence.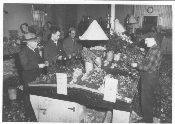 Interior of the H.J. Mills florist operation in 1948. Pictured left to right are Doug Lowrey,Alex Peters,Howard Van Dyke,James Pollard,Stan Baker,H.J. Mills,Bill Fisher,Norm Stephenson,Bill Horner.

In 1912, Mills bought from J. Sheardown four acres (about one and a half hectares) of land on the north side of Centre Street East. There he built two greenhouses, set up H.J. Mills Limited, and made his reputation by concentrating exclusively on roses. These roses won top prizes at Toronto's Royal Agricultural Winter Fair, were shipped to the West on Trans-Canada Air Lines' first air-express flight in 1938, and were presented to Queen Elizabeth at Ottawa during the 1939 Royal Visit. 6

Lawrence,Dunlop, and Mills were friendly competitors who often worked together to fill large orders and bring visiting delegations of horticulturalists to town. Their co-operation intensified during the years of the First World War when they shared carloads of rationed coal and, when fuel ran out, burned fence rails and all available odds and ends of lumber to keep their flowers alive. 7

The industry also worked with local residents in establishing the Richmond Hill Horticultural Society. Growers Lawrence and Dunlop joined villagers John Sanderson and G.F. Allen on the founding executive in April 1914, and fifty-four members were soon signed up. Over the next few years, the Richmond Hill Horticultural Society worked to realize its twin aims of beautifying the village and increasing local interest in flower, fruit, and vegetable growing. It distributed seeds and seedlings to school children, offered prizes for flower and vegetable gardens, planted trees on municipal property, and lobbied council for waste baskets in front of business premises. 8
Endean's Garden Centre at Elgin Mills in the 1930s.

The active horticultural scene at Richmond Hill attracted other entrepreneurs, who opened greenhouse and nursery operations throughout the 1910s and 1920s: Henry Arnold and his Bedford Park Floral Company, located north of the Dunlop greenhouses; the Endean Brothers and their nursery business; and Walter Watson,H. Davis, and other independent operators. Almost overnight, the horticultural industry made the village famous and became Richmond Hill's major employer. By 1939, the industry was producing some four million roses annually, employing upwards of one hundred workers, and pumping $250,000 in wages into the local economy. And the village grew with its new industry. The population began to rise for the first time since the 1870s - jumping from 652 in 1911 to 1055 in 1921, and rising again to 1295 by 1931. After listing a number of properties that were being improved in August 1913, The Liberal concluded that "we are at last in the swim, and making rapid advance to Municipal importance." By December 1918, The Liberal could no longer keep track of improvements and concentrated instead on new residences being built - twenty-seven in the preceding twelve-month period. 9

Many of these new homes were situated east of Church Street, between today's Roseview Avenue and Major Mackenzie Drive, where William Lawrence was developing the new subdivision of Roseview Gardens. Switching to his property developer's role, in 1913 Lawrence began selling building lots along present-day Baker,Ruggles, and Lawrence avenues.
First home of contractor William H. Graham, which he built at 90 Centre Street East in 1911. Mrs. Graham is sitting on the steps while her husband and eldest child, Philip, sit in their new 1914 Model-T Ford.

In Roseview Gardens and all around the town, contractors were in great demand, and one of the most sought-after builders was William Graham. (He had established a contracting business in the community in 1911, when he was thirty years old.) Over the course of the next thirteen years, he built about thirty-one houses, the Loyal True Blue and Orange Home north of town, the M.L. McConaghy Public School on Yonge Street, the second Patterson School west of town, an arena in the village park, and numerous commercial buildings. By the time of Graham's death in 1924, Richmond Hill was a village rejuvenated. 10

As the rose-growing industry continued to prosper,it became a more distinct part of Richmond Hill's identity, and was eventually written into the village's motto. In 1919, Council asked local carriage builder and artist William Ashford Wright to design a crest for its official stationery and for the two large signs erected at each end of the village which proclaimed Richmond Hill as "Toronto's Highest and Healthiest Suburb."Wright took his design from the top of the coat of arms of the 4th Duke of Richmond, as a salute to the Duke's visit back in 1819 and his possible role as the community's namesake. Wright also borrowed the Duke's motto, which was now uncannily appropriate: "En la Rose Je Fleuris," which freely translates as "Like the Rose I Bloom," "I Bloom as the Rose," or "In the Rose, I Flourish."
Notes
5. Ibid., March 26, 1914; April 13, 1916.
6. Ibid., October 20, 1938; May 18, 1939.
7. Doris M. Fitzgerald," John Dunlop's Greenhouse Roses Turned December into June,"The Liberal,October 12, 1965.
8. Dr. Lillian Langstaff," Agricultural Society Celebrates Fortieth Anniversary,"The Liberal,November 25, 1954.
9. The Liberal,August 28, 1913; December 11, 1918.
10. "Biography of William H. Graham," Local History Collection, Richmond Hill Public Library.
---
Previous
Next
---
---
Copyright © Richmond Hill Public Library Board, 1991