War and Peace at Miles' Hill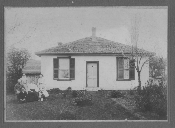 Burr House, built by Rowland Burr on Carrville Road in the 1820s. The Richmond Hill Historical Society leases Burr House from the Town of Richmond Hill and, together with the Burr House Spinners and Weavers and the Hill Potters Guild, operates the Burr House Craft Gallery. Members of the Woods family, later owners, appear in the picture.

When Simcoe's long-feared war with the United States finally did break out in June 1812, long after the governor had left the colony, Miles' Hill found itself far enough removed to avoid any physical destruction. But it was close enough to experience both the rush of military preparations and the economic side effects of an early nineteenth-century armed conflict.

First came the exciting call to arms. General Isaac Brock, commander of British forces and acting lieutenant-governor of Upper Canada, ordered a muster of all available men in the Miles' Hill area. The recruits gathered at Lot 43 East, the farm of James Fulton, an Irish American Loyalist who had served with the British forces during the American Revolution. There they were inspected by General Brock himself and formed into a company of the 1st Regiment of York Militia.

Fulton would have enjoyed commanding the troops, but at age fifty-seven he was considered too old. John Arnold, son-in-law of Abner Miles, was named captain and commanding officer of the company. Arnold's brother-in-law, James Miles, was lieutenant and second-in-command. John Langstaff, another of Abner's sons-in-law, was one of four sergeants. The list of privates included a mix of both English- and German-sounding names.
General Isaac Brock. Archives of Ontario

The excitement of mustering was followed by the dull routine of garrison duty at York during the fall and winter of 1812-13. General Brock was well aware of the Yonge Street farmers' "clamour to return and attend to their farms," 9 and allowed the Miles' Hill men to return home in the spring and plant their crops. This took most of them away from York during the American assault of April 27, 1813, although Captain Arnold was briefly taken prisoner and Lieutenant David Bridgeford, a Miles' Hill resident serving with the 3rd Regiment of York Militia, was slightly injured.

Meanwhile, many of the American-born settlers along Yonge Street faced questions of loyalty and patriotism as American forces invaded and temporarily occupied the town of York. Everyone knew where James Fulton and other certified United Empire Loyalists stood. But what about the American settlers who migrated to Upper Canada for personal or economic reasons rather than political conviction?

Consider the case of John Lyon or Lyons of Lot 36 West. On August 1, 1813, one citizen testified that "while the Enemys forces were in York," Lyon or Lyons was seen "drawing with his waggon Public Stores down to the Water Side for the Enemy." There was "no appearance of Compulsion, and for all that appeared Lyon did it voluntarily." Later, a pond on Lyon's property was reported to have been used as the resting place for agricultural tools initially distributed to friendly Yonge Street settlers by the Americans after they had looted the government stores in York, then dumped by the farmers to avoid detection. 10

Yonge Street farmers accused of pro-American sympathies were perhaps not so much anti-British as against the urban establishment figures in York - a traditional farm-versus-town, outsider-versus-insider antipathy that would reveal itself much more openly a quarter of a century later during the Rebellion of 1837. Commercialism, rather than patriotism, also seems to have been a driving force, as profits were to be made supplying the garrison at York during the hostilities - whether that garrison consisted of British-Canadian, or enemy American troops.

There were also profits to be made farther north. During the war, Yonge Street became a lifeline, though a precarious one, between York and the Upper Lakes. Yonge Street ended at Holland Landing, and if Penetanguishene on Georgian Bay was to be established and reliably supplied as a base, something more than the roundabout routes by the Nottawasaga or Severn rivers was needed. So in December 1814, a start was made on an extension to Yonge Street - a road cut from the head of Kempenfelt Bay on Lake Simcoe north to Penetang.

Even the recalcitrant North West Company started using the Yonge Street route over which it had dithered for so many years, and so at last the fur trade made some impact on the road. Furs and trade goods continued to go up and down the road sporadically until 1821, when the North West Company was absorbed by its arch-rival, the Hudson's Bay Company, and all overland routes to the West were replaced by a route that passed through Hudson Bay.

The general prosperity of the war years turned out to be a mixed blessing. Yonge Street farmers like Isaac Willson felt that high wages paid for government contracting work, combined with equally high wages paid by the North West Company to cart supplies up Yonge Street, had lured people away from the land. "There is very little done in the farming line," he wrote his brother on August 20, 1815. 11

Willson was writing during the first summer of peace following the end of both the War of 1812-14 and the Napoleonic Wars in Europe. Local militia officers like John Arnold and David Bridgeford,John Langstaff and James Miles, had put down their arms and returned to the land. For many residents of Miles' Hill, the postwar years brought an economic recession, followed only gradually by expanded business opportunities as immigration from Great Britain began again. But for James Miles, the return of peace brought a renewed interest in providing the community with religious underpinnings.
Notes
9. Brock to Sir George Prevost, July 12, 1812, in William Wood, ed., Select British Documents of the Canadian War of 1812,vol. 1(Toronto:Champlain Society,1920),p. 352.
10. Deposition of William Knott Concerning Lyon, Hastings and Wheeler, August 17, 1813, in Edith Firth, ed., The Town of York, 1793-1815: A Collection of Documents of Early Toronto(Toronto:Champlain Society,1962),p. 320.
11. Edith Firth, ed., The Town of York, 1815-1834: A Collection of Documents of Early Toronto(Toronto:Champlain Society,1964),p. 36.
---
Previous
Next
---
---
Copyright © Richmond Hill Public Library Board, 1991