The Duke, the School Teacher, and "The Lass of Richmond Hill"
The Duke of Richmond, as depicted by a cartoonist. National Archives of Canada, C-94671

No one knows exactly why the residents of Miles' Hill began to cast about for a new name for their community, but during the 1820s the older name was replaced by a new label - Richmond Hill. Perhaps James Miles had done something to alienate community residents. Perhaps the hamlet's association with the Milesesbegan to fade because James had no heirs to carry on the family name. Whatever the motivation, there is a traditional account of how the renaming took place. It centres around the 1819 visit of the Duke of Richmond, Governor General of British North America.

Charles Lennox, fourth Duke of Richmond and Lennox, was born in England in 1764. As a boy he joined the Sussex militia, and eventually rose through the regular army ranks to the rank of general. He represented Sussex in the British House of Commons from 1790 to 1806 and served as lord-lieutenant of Ireland from 1807 to 1813. In 1818 he was appointed governor general of British North America, with headquarters at Quebec City. It was while holding this post that Richmond undertook an extensive tour of Upper and Lower Canada during the summer of 1819.

Yonge Street was on his itinerary, and in mid-July he made a stopover at Richmond Hill. According to tradition, the Governor General reached the village at a time when timbers were being prepared for the new Presbyterian Church. "Arriving at the noon-hour when the voluntary workers were at their midday lunch," wrote A.J. Clark in later years, "he and his party were invited to join in the out-door repast. Having accepted, the Governor and his guests are reputed to have enjoyed the novel experience with evident relish and as a result of that event Richmond Hill is said to have received its present name." 23
Cairn marking the death of the Duke of Richmond at Richmond, Ontario. National Archives of Canada, C 8998

Although the Duke may have enjoyed this meal immensely, the poor man had only a few weeks left to live. Earlier in his trip, while at William Henry (now Sorel, Quebec), he was bitten on the hand by a fox. The injury apparently healed, and he continued on to York and western Upper Canada, returning east to Kingston, and planning a leisurely visit to the settlements on the Rideau River. During this part of the journey, delirium and other symptoms of hydrophobia appeared, for the fox bite had infected him with rabies. The disease developed rapidly and on August 28 he died in extreme agony near Richmond, Carleton County - a community definitely named in his honour. The Duke's body was taken to Quebec, where on September 4 he was buried in the Cathedral of the Holy Trinity. 24

His name lingered on at Richmond Hill, as place-name authorities continually assure us. G.A. Armstrong's The Origin and Meaning of Place Names in Canada states unequivocally that Richmond Hill is "named after the fourth Duke of Richmond." This information is repeated in Nick and Helman Mika's Places in Ontario: Their Name Origins in History and in William B. Hamilton's The Macmillan Book of Canadian Place Names. Hamilton is most definite, citing as his authority the Canadian Permanent Committee on Geographic Names. "On July 13, 1819," Hamilton quotes, "the Duke stopped there for dinner and attended the raising of the Presbyterian Church; the village was immediately renamed in his honour." 25 Surely the Canadian Permanent Committee on Geographic Names could be counted on for a definitive account.
Charles Lennox, Duke of Richmond, Governor General of Canada. His visit to the community in 1819 may have inspired the change of name from Miles' Hill to Richmond Hill. National Archives of Canada, C-8997

Yet serious doubts surround the Duke of Richmond story, despite its survival in popular mythology. Certainly the Duke travelled along Yonge Street in July 1819, but whether he stopped at Miles' Hill is another matter. Local historian William Harrison, writing in The Liberalseventy years later, stated that he could get no confirmation of the Governor General's visit from any living residents who might be expected to know of it. Another nagging thought: Would the Presbyterians have started their building in 1819, when we know for certain that it was not completed for another two years?

Despite the research of so many place-name authorities, despite the magisterial pronouncement of the Canadian Permanent Committee on Geographic Names, another explanation of Richmond Hill's name has long endured. This alternate account is rooted in the community's educational activities instead of its religious work. Rather than a titled aristocrat, the central characters now become a humble schoolmaster named Benjamin Barnard and an anonymous young woman known simply as "The Lass of Richmond Hill."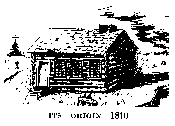 Richmond Hill's first schoolhouse.

First, the schoolteacher. Regular weekday schooling for the children of Miles' Hill may have evolved from James Miles' first Sunday School of 1811, or it may even have started a year earlier. Early histories of the community refer to school classes beginning in 1810 in an abandoned settler's log cabin, with earthen floor and huge fireplace. Desks were made of half a log split down the middle; seats were fashioned from pine blocks. Books and learning materials were in short supply, attendance sporadic. 26

In 1816, the village took advantage of a piece of legislation enacted that year by the provincial legislature authorizing local communities to elect three-member school boards and providing an annual grant of £25 to help pay teachers' salaries. The villagers soon erected a proper schoolhouse - a hewn log structure, chinked with mud, about six by twelve metres (twenty by forty feet), located on the west side of Yonge Street a short distance south of the present McConaghy Centre.
Benjamin Barnard, first school teacher in Richmond Hill; tombstone in Richmond Hill Cemetery. Photo by Mary-Lou Griffin

Benjamin Barnard was hired as teacher in 1816, at a salary of $12.00 a quarter, supplemented by free board for two weeks each year in the home of every family sending pupils to the school. He served as his own truant officer, "acted as village moral guardian in the evening," and seems to have been popular with both his students and their parents. Unlike most village schoolmasters in early nineteenth-century Upper Canada, Barnard put down roots in the community. He married Marie Stegman, daughter of surveyor John Stegman, raised a family, and was buried in the Presbyterian Church cemetery after his death in 1831. 27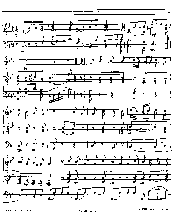 "The Lass of Richmond Hill," from W. Chappell'sOld English Ditties, transcribed by Richard Lloyd.
Despite Barnard's commitment to the New World, he remained very nostalgic about his hometown of Richmond Hill, England, and extremely fond of an old English folk song, "The Lass of Richmond Hill." So he reportedly taught each of his school classes to sing that ditty, and was said to conclude every discussion about a new place name by flatly declaring, "We will call it Richmond Hill."28
Yet this Barnard story raises as many unanswered questions as the Duke of Richmond account. Are these completely separate versions of the origin of Richmond Hill's name, or is there a link between the two? Did Barnard launch the change-of-name agitation prior to July 1819 and then benefit from the Duke of Richmond's visit? Or did Barnard's efforts come later, in support of a name-change movement spontaneously launched at the time of the Duke's visit?
Surveyor John Stegman, whose daughter Lizzette spurned the advances of the Comte de Puisaye, but whose other daughter Marie married schoolteacher Benjamin Barnard. Association of Ontario Land Surveyors

And which "English" Richmond Hill provided the inspiration? Barnard's birthplace was Richmond Hill, Surrey - today a comfortable neighbourhood not far from the Thames River within the Greater London borough of Richmond. But "The Lass of Richmond Hill" may have been inspired by Richmond Hill, Yorkshire - a once-pleasant country spot, which is today a rather undistinguished suburb of the industrial city of Doncaster. 29 And while Benjamin Barnard provides the connection between Ontario's and Surrey's Richmond Hills, geography links Ontario's and Yorkshire's communities: they are both close to the Don River.

One thing is certain. By the mid-1820s, the community along Yonge Street between Major Mackenzie Drive and Elgin Mills Road had a new name - Richmond Hill. That name would be confirmed in future years with the establishment of a post office and the granting of village and ultimately town status. In the broad sweep of history, it matters little whether credit ultimately goes to the Duke of Richmond or "The Lass." More important are the contributions of early leaders like Abner and James Miles,William Jenkins, and Benjamin Barnard - whose lives and actions helped a community take shape.
Notes
24. Dictionary of Canadian Biography,vol. 5,pp. 488-90.
25. William B. Hamilton,The Macmillan Book of Canadian Place Names(Toronto:Macmillan,1978),p. 200; G.H. Armstrong,The Origin and Meaning of Place Names in Canada(Toronto:Macmillan,1972),p. 241; Nick and Helma Mika,Places in Ontario: Their Name Origins and History(Belleville:Mika Publishing,1983),vol. 3,p. 296.
26. Mary Dawson,"In Years Gone By: Flashback 37,"The Liberal February 10, 1966.
29. Floreen Ellen Carter,Place Names of Ontario,vol. 1(London:Phelps Publishing Company,1984),p. 766; Dawson,"In Years Gone By: Flashback 37."
---
Previous
Next
---
---
Copyright © Richmond Hill Public Library Board, 1991