Colonel Moodie Rides Down Yonge Street
"Rebels" marching down Yonge Street to attack Toronto in December 1837. C.W. Jefferys,The Picture Gallery of Canadian History,Ryerson Press

On Monday, the fourth of December in the year 1837, at about four o'clock in the afternoon, Captain Hugh Stewart stood near the front door of Crew's Tavern on the west side of Yonge Street, just north of Richmond Hill village. Stewart was a retired British naval officer who lived on the northeast corner of Yonge Street and Elgin Mills Road. We do not know whether he spent every afternoon at Crew's. But there he was on that particular afternoon in December 1837, about to witness a rebellion in the making.

"A great many men to the number of about 75 passed me, going towards Richmond Hill,"Stewart recounted. "It immediately occurred to me that these men belonged to the Rebels, and were on their way to Toronto." 21Stewart jumped to the alert and adopted his former naval officer's command mode. He ordered tavern owner William Crew to sound the alarm and gather the village's "loyal" population at the residence of Robert Moodie on Lot 49 East, across the road and south a bit from Crew's.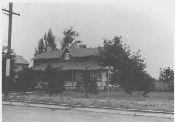 An early-twentieth-century photograph of the home of Robert and Frances Moodie, Lot 49 East, on Yonge Street, a rallying point for Richmond Hill loyalists on December 4, 1837. National Archives of Canada PA 26871

Moodie's house was a natural rallying point for Richmond Hill's loyalists, Tories, and pro-government sympathizers. Robert Moodie was a retired British army officer, a lieutenant-colonel in the 104th Regiment, who had served in both the Napoleonic Wars and the War of 1812. He erected a huge flagpole in front of his house, and proudly flew the Union Jack on every national holiday and special occasion. Villagers referred to him respectfully as "Colonel" Moodie and his residence was always "Colonel Moodie's place."

While Stewart and Crew rallied village loyalists, the rebel force began to "perch themselves, in number about 60, opposite Colonel Moodie's house." Fearing their intentions, Stewart, by his own account, "walked up inside of the fence amongst them, and endeavoured to bring them into conversation, but without effect. By this time their numbers had increased to about 125. I crossed the fence in the midst of them, and crossed the road to Colonel Moodie's house." 22
Moodie plaque on the east side of Yonge Street, opposite Levendale. Photo by Mary-Lou Griffin

Stewart found the Colonel and his family safe inside, quite unaware of what was happening on the street. But Moodie was quick to act when Stewart pointed out the window to the men on the fence. "He directly ordered his arms and loaded them, and stated that if they came inside of his gate he would shoot the first man." 23

By half past four, tensions eased as the men outside began to move on from the fence and continue their progress south on Yonge Street. At the same time Francis Boyd arrived at Moodie's place, then William Crew, and together the small group of loyalists decided that Lieutenant-Governor Francis Bond Head must be told of the situation. At 5:15, tavern owner William Crew set out on horseback for Toronto.

All this activity was closely watched from Crew's own tavern opposite by Aaron Munshaw, a son of Balsar and Katharine Munshaw, who farmed Lot 51 West. As Crew came out Moodie's door and prepared to saddle up, Munshaw galloped south to alert the main band of rebels in the centre of Richmond Hill.

By six o'clock, word had reached the loyalists at Moodie's that Crew had been stopped and taken prisoner. Moodie then announced that he would ride south himself, for "he could not think of the Governor and people of Toronto to be murdered in their beds, without an effort to save, and do all he could to pass the rebels on the road." 24 At that point Moodie's wife, Frances, made a dramatic entrance and boldly declared that "Moodie should not go." Only when assured that David Bridgeford would accompany her husband and keep his passions in check did Frances Moodie relent.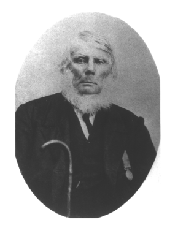 David Bridgeford, veteran of the War of 1812 and prominent member of the Richmond Hill community, who accompanied Colonel Robert Moodie on his ride down Yonge Street in the evening of December 4, 1837.

David Bridgeford had first arrived in Richmond Hill as a youngster back in 1797. He served with the British forces during the War of 1812, saw action at Detroit and along the Niagara frontier, was wounded in the American attack on York, and rose to the rank of colonel. After the war, he became one of the more prominent members of the community, played a leading role in Tory politics, and like Moodie, enjoyed being called "Colonel."

Bridgeford had had his first brush with the rebel forces earlier that day. While out on Yonge Street to find out what was happening, he was apprehended by the rebels as a known supporter of the Family Compact. Then an old friendship reasserted itself, as rebel leader Samuel Lount released Bridgeford on condition that he go straight home. But as the rebel force moved south, Bridgeford made his way to Moodie's and took part in planning a way to stop the rebels.

As darkness fell that evening, Bridgeford readily agreed to accompany Moodie on his ride to Toronto. Hugh Stewart also offered to go. South of Thornhill, they were joined by four more loyalists who had escaped the rebel net. The riders experienced no difficulty until they reached Montgomery's Tavern, where a rebel guard blocked the road. Bridgeford suggested that they leave the highway and follow a more circuitous route into town, but the inflammable Moodie - perhaps a little too full of drink and bravado - was spoiling for a frontal assault.

"We made a dash at them and passed them," Stewart later told an inquiry eager to hear every last detail of the incident. "On turning round I saw that only two, Moodie and myself, had passed. He and I consulted together and determined to pass the second guard. In passing the door at Montgomery's house I heard an order given, either 'prepare to fire' or 'fire' - I heard the word fire distinctly.

"We put our horses to full speed for the purpose of passing the second guard which was drawn up about fifty yards below Montgomery's. We failed in getting through. They got hold of the bridles of our horses. They called on us to stop and surrender."

"Who are you that dare to stop me upon the Queen's highway," challenged Moodie.

"You will find out that by and by," came the reply.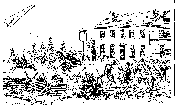 The first casualty of the 1837 Rebellion - the shooting of Colonel Robert Moodie outside Montgomery's Tavern on December 4, 1837, from a pen and ink drawing by C.W. Jefferys. Metropolitan Toronto Reference Library

At that instant, Moodie fired his pistol. The rebel guard answered with three shots. Moodie fell on the neck of Stewart's horse. "I'm shot. I'm a dead man," he gasped. 25

Stewart helped Moodie regain his saddle, but the two were immediately taken prisoner, separated by force and dragged into the tavern. Later, Stewart was allowed a brief visit with Moodie, "who I found lying on the floor in a small room, bleeding and writhing in agony." Fellow prisoner William Crew was allowed to see Moodie later that evening. "He was lying dead," Crew testified, with "two bullet-wounds in the left side." 26Robert Moodie thus became the first casualty of the Upper Canada Rebellion of 1837.

Meanwhile, after Moodie had fallen in front of the tavern, Bridgeford rode around the back, dodging bullets and leaping fences, and succeeded in reaching Yonge Street to the south. He fell in with John Powell, later mayor of Toronto, and they were the first to arrive at Government House and alert Governor Head. But on the following day, Tuesday, December 5, as he rode north to raise volunteers for the defence of Toronto, Bridgeford was himself apprehended by the rebel force still gathered at Montgomery's. Initially threatened with execution as a spy, he was held as a prisoner of war when David Gibson interceded on his behalf.

That same day, December 5, Mackenzie and about five hundred ill-clad and poorly armed rebels left Montgomery's and marched down Yonge Street towards Toronto. A truce party met them, and Mackenzie explained the rebels' demands. Later in the afternoon Mackenzie led his troops farther down Yonge Street towards the city, where they met a party of twenty loyalist volunteers led by Sheriff William Jarvis. The front rank of Mackenzie's men fired, then dropped to the ground to let the next rank fire over their heads. Those behind thought the men in front had been killed, and they fled in panic.

That same night reinforcements for the government side arrived from Hamilton. By Thursday, December 7, the loyalist forces were 1500 strong. They marched up Yonge Street to attack Mackenzie's force of some five to six hundred at Montgomery's Tavern. During the second "battle" the rebels were routed within half an hour, while Bridgeford and other captives were freed unharmed. Loyalist forces then burned the tavern and leisurely marched back to Toronto. Mackenzie's rebellion was over.
Notes
21. Capt. Hugh Stewart's Account of Colonel Moodie's Death, in Read and Stagg,The Rebellion of 1837 in Upper Canada,pp. 144-45.
25. Statement of Capt. Hugh Stewart, ibid., pp. 145-47.
26. Ibid., and Evidence of William Babcock Crew, p. 147.
---
Previous
Next
---
---
Copyright © Richmond Hill Public Library Board, 1991