Aftermath of Rebellion
As Mackenzie's men fled from the battlefield on December 7, 1837, they were helped by the usual deplorable state of Yonge Street. "The road was in such bad condition," writes one historian, that "pursuit of the rebels after the battle of Montgomery's Farm was almost impossible - even on horseback." 33Mackenzie himself and a number of his sympathizers were thus able to escape to the United States.
Highland Cottage,86 Major Mackenzie Drive, dating from the 1840s.

Still, many of Mackenzie's followers were captured and imprisoned in the days following the collapse of the uprising, as loyalists rallied and sought revenge. Samuel Lount and Peter Matthews were convicted of treason and hanged for their part in the uprising; others were "transported," or exiled, to Australia; most were released after a short time in jail. Mackenzie and those living in American exile eventually returned to Upper Canada after political tensions eased.
Tomb of Colonel Moodie in Trinity churchyard, Thornhill.A.J. Clark

But it took some time for those tensions to abate. On Tuesday, October 15, 1838, a meeting was held in Richmond Hill where the farmers and settlers of Vaughan and Markham discussed recommendations for responsible government prepared by Lord Durham, the commissioner appointed by Britain to investigate the troubles in the Canadian colonies. Eighteen-year-old Larratt Smith, Jr., son of arch-Tories Captain and Mary Smith of Twickenham Farm, attended the meeting and recorded his impressions: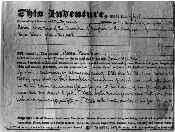 Part of a deed for Lot 51 West (the Vaughan Township side of Yonge Street), from Aaron Munshaw to James Newton, May 6, 1837."

"The Durham Meeting took place on Tuesday with about 1000 people present. Mr. Boyd was Chairman & Papa moved the Resolution," young Smith noted in his diary. "Later, a fight broke out in which the Orangemen thrashed the rebels so badly that one man was killed almost on the spot. I came home a little after dinner & at nightfall loaded all our guns & pistols & went round the house before I went to bed." 34
Observatory House on Observatory Lane, pictured in 1933. Robert and Sara (Bridgeford) Marsh built the older section of the house in the 1840s. A later addition was erected by their grandson Alexander in 1866.

Although there had been many rebel sympathizers in the Richmond Hill area, the Tories maintained control of the village's political life and its community organizations for the next several years. The Home District Agricultural Society, in which Mackenzie had once found supporters, reflected this new order. At a meeting in Richmond Hill on December 9, 1840, with the sheriff of the Home District in the chair, and members like Hugh Stewart,Richard Gapper, and Edward O'Brien dominating proceedings, the society went on record as the representative body of York County farmers and landowners. 35

Long after the rebels had been apprehended and put on trial, and the official meetings had faded into history, Simon Miller remembered the lasting divisions within the community. Miller was an eleven-year-old Richmond Hill schoolboy in December 1837. He heard shots fired, witnessed rebel forces on the march, and watched as "loads of prisoners" were taken to Toronto to stand trial. What remained clearest in his mind sixty years later, however, were "the feuds it gave rise to," which "lasted for a generation." For years afterwards, Miller recalled, the first taunt hurled during a quarrel was "You are a rebel" or "the son of a rebel." 36
Notes
33. Edwin C. Guillet,Toronto from Trading Post to Great City(Toronto:Ontario Publishing Company,1934),p. 97.
34. Smith,Young Mr. Smith in Upper Canada,p. 21.
35. Berchem,The Yonge Street Story,p. 151.
36. Markham Sun,July 14, 1898.
---
Previous
Next
---
---
Copyright © Richmond Hill Public Library Board, 1991