The Kinnear Murder Case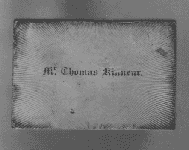 Calling card of Thomas Kinnear, victim of Richmond Hill's most celebrated murder case in July 1843.

Thomas Kinnear was a gentleman farmer who lived on Yonge Street north of Richmond Hill village. A journalist of the time wrote that Kinnear was possessed of "considerable means" and that he lived a life of "careless ease and self-indulgence" with his housekeeper, Nancy Montgomery, a very attractive woman. Although this common-law relationship prevented Tom and Nancy from being part of the local social circle, they lived quite happily by themselves, and with their maid and manservant.

Then on July 18, 1843, Kinnear and Montgomery were killed by the jealous manservant in what was widely regarded as Upper Canada's most notorious murder case.

Tom and Nancy were subsequently buried in the Richmond Hill Presbyterian Cemetery - but in the far southwest or "Potter's Field" section, some distance from the community's more respected citizens. Nancy's body lies at Kinnear's feet in the only grave in the entire cemetery that lies along a north-south line.