Hospitality on the Hill
Like most travellers of the mid-nineteenth century, both Richard Bonnycastle and W.H. Smith would have been struck by the large number of inns, taverns, and hotels that had sprung up along Yonge Street from Toronto north to Holland Landing. In its heyday, Yonge Street boasted more taverns than any other road in Upper Canada 7 - a result of both the heavy north-south traffic and the challenging state of the highway itself. A muddy and deeply rutted road in spring, a dusty road in late summer, an ice-covered road in winter - all demanded frequent pauses for liquid and solid refreshment.
"By the time he reached Holland Landing after a long day's journey and numerous stops for refreshment," write Margaret McBurney and Mary Byers, "a traveller might well have trouble putting a steady foot on the ground. The mood in the coach became more boisterous after each stop; at the best of times a formidable experience, the journey often became a rollicking, noisy and occasionally dangerous adventure. Nor was it unknown for the driver to be somewhat unsteady as well, since it was customary for tavern-keepers to treat him to free drinks in exchange for his continued patronage." 8
Richmond Hill was ideally situated to serve this Yonge Street coaching trade. As Abner Miles discovered early in the century, the community was just far enough north of Toronto for most travellers to develop a strong appetite and a good thirst. The 1810s saw hotel licences awarded to Isaac Pilkington of Oak Ridges,Jarvis Ashley at Carrville Road, and William Flanagan and James Fleck of Elgin Mills - although none stayed long in business. Several other local residents were licensed for brief periods during the 1820s - Bridgeford,Wright, and Raymond on the west side of Yonge Street,Vanderburgh on the east side, Gordon at Oak Ridges.
Then came the stage coaches. When John Playter and Sons established regular coach service between York and Holland Landing in 1828, the already-busy hotels saw their business boom. But the Yonge Street coach business itself proved extremely volatile as competitors moved in and out and ownership of the various lines and mail contracts changed frequently. In the spring of 1829, for instance, William Garbutt obtained a four-year contract to carry mail between York and Newmarket. He made two round trips weekly and carried passengers between the two points for a fare of six shillings and three pence. 9 Meanwhile, Playter sold his business to William Weller in 1832, and Weller in turn sold to Charles Thompson. As business grew, service increased to daily trips each way, then twice daily except Sundays.
By 1830, James Raymond's Tavern on Lot 49 West in Richmond Hill was a regular stop for the mail stage operating between Newmarket and York. Southbound stages arrived at 9:00 a.m. and left for York after only a brief stop, while northbound coaches pulled in at 4:00 p.m. for a much longer stopover - either for drinks or supper or both. 10
Across Yonge Street to the south, Barnabas Vanderburgh's hotel was a large building with a driving-shed and stable covering a wide frontage along the road, and was reputed to be the first frame structure in the village. It was also Richmond Hill's only early inn known to continue in operation well into the second half of the nineteenth century, although not under the same name and ownership. Vanderburgh himself held licences only from 1823 through 1827, before selling the property to William O'Hearne. Through the Rebellion decade of the 1830s, "Mrs. O'Hearne's" was a popular spot for heated political meetings. 11
Vanderburgh proved typical of these early licence-holders, as all either sold their businesses or simply disappeared from the records after a few years. But there were always newcomers like the O'Hearnes, eager to try their hand at innkeeping. By the 1830s, new hotels had opened at Langstaff Road and Bond Lake.12 And William Crew began construction on a large mud brick structure at Lot 50 West, the well-known "Mud Building" that later served as a multi-family dwelling after Crew abandoned his hotel plans.
Most of the earlier inns operated for a few years, then passed from the public eye. They would have offered modest accommodation, frequently in a log house shared by the innkeeper's family. As population grew and commerce increased along Yonge Street, larger frame structures like Vanderburgh's with greatly improved facilities offered the traveller greater comfort.
Eventually the Simpsons - John and then George - resurrected Vanderburgh's old place and brought it back to life as the Masonic Arms. During the early 1850s, the new inn witnessed some lively action while construction crews worked on improving Yonge Street north from Carrville Road:
"Many of these men boarded at the hotel where the drinking and fighting were something extraordinary," wrote William Harrison. "Most of Saturday's wages were spent on general carousal on Saturday nights and Sundays. The road ran so close to the front of the hotel that it laid bare the foundation, and a platform, six feet in height, was built all across the front with many a drunk reeling over the edge, occasionally with death resulting." 13
Later, the Masonic Arms sought a somewhat more respectable clientele. "Good accommodations and every attention to Travellers," read an 1861 advertisement for the lodging house. "Good yards for Drove Cattle and loose boxes for Race Horses and Studs. The best of Liquor and Cigars kept constantly on Hand. The Monthly Fair held on the Premises first Wednesday in each month." 14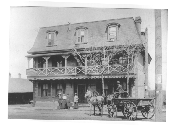 Waiting for the stagecoach at the Dominion House (formerly Dalby's Tavern), a mainstay of Richmond Hill's nineteenth-century hospitality industry. The Dominion House was located on the east side of Yonge Street, south of the Trench Carriage Works.

But the Masonic Arms was only one of about nine inns between Langstaff Road and Oak Ridges during the mid-century heyday of Richmond Hill's hospitality industry. The most famous and best known was undoubtedly Dalby's Tavern. It was a long, low frame building with its huge "Lass of Richmond Hill" sign at the front. By the late 1840s, it was the stopping place for Yonge Street stagecoaches, and attracted the upper crust of Toronto on their private carriage rides up Yonge Street.

Dalby's received high marks in Richard Bonnycastle's book, Canada and the Canadians in 1846. A well-to-do Britisher of refined tastes and considerable snobbery, Bonnycastle praised Dalby's as "a most comfortable resting-place for a wearied traveller, at which prose writer or poetaster may find a haven. Attention, good fare, and neatness prevail." Then came the ultimate accolade: "It is English." 15

Francis Dalby sold the business to Richard Nicholls in 1859, who ran it as the Richmond Hill Hotel or simply Nicholls' Hotel. Over the next few years it provided offices for doctors, dentists, music teachers, and other professionals who were passing through, and it became the scene of local lodge meetings, society gatherings, auction sales, parties, and dances. 16
Notes
7. Margaret McBurney and Mary Byers,Tavern in the Town: Early Inns and Taverns of Ontario(Toronto:University of Toronto Press,1987),p. 104.
9. Colonial Advocate,March 3, 1829.
10. Janet Fayle,"Taverns in the Town"(Richmond Hill:Richmond Hill Public Library Board,1989),p. 21.
13. William Harrison,"Richmond Hill and Vicinity," in ibid., p. 34.
14. Fayle,"Taverns in the Town,"p. 36.
15. Bonnycastle,Canada and the Canadians in 1846,vol. 1,p. 187.
16. Fayle,"Taverns in the Town,"pp. 47-50.
---
Previous
Next
---
---
Copyright © Richmond Hill Public Library Board, 1991