Tiles in the Mosaic: Men and Women Who Shaped Late-Ninetenth-Century Richmond Hill
The Doctor - James Langstaff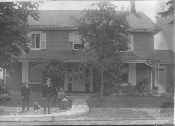 Dr. Rolph Langstaff, with his housekeeper and her husband, on the front lawn of the Langstaff home, medical office, and village "hospital," circa 1895. The house was built in 1849, facing Yonge Street; in the twentieth century it was moved to the rear of the property, and today faces Hall Street.

As a son of John Langstaff and a grandson of Abner Miles,James Langstaff provided a link with Richmond Hill's earliest beginnings as a community. Born in 1825 at the Langstaff family home at today's Yonge Street and Highway 7, young James studied medicine in Toronto and in England, practised first in Unionville, then moved to Richmond Hill in September 1849.

From his stately home on the west side of Yonge Street just north of the village core, Langstaff healed the sick and patched up accident victims for the next half-century. Like many small-town doctors of the day, he also served his community in other ways - as town councillor, active Presbyterian layman, and temperance advocate.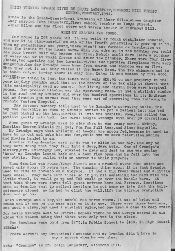 "When My Grandpa Was Young." Nine-year-old Bruce Langstaff's 1952 school speech about his grandfather, Dr. Rolph Langstaff.

Langstaff was also a link with the future. His son Rolph and daughter-in-law Lillian, doctors both, took over the medical practice, carried it into the twentieth century, and eventually handed it on to their son, another Dr. James Langstaff. And the Langstaff home still exists, although it has been moved to the rear of the property and now faces Hall Street.
The Newspaper Editor - Thomas McMahon
Born in Whitchurch Township in 1852, schooled in Aurora, and trained initially as a teacher, Thomas Franklin McMahon arrived in Richmond Hill in 1878 as principal of the Public School. Six years later, he left teaching and purchased The Liberal.
Front pages of Richmond Hill's two weekly newspapers on September 20, 1888.

With the departure of the York Herald for Weston in 1890, McMahon'sLiberal became the sole newspaper of Richmond Hill. For more than forty years, until his death in 1926, McMahon served as the public voice and public conscience of the village.

But McMahon was more than a weekly newspaper editor and publisher. His shop printed up most of the village's handbills and circulars for over forty years, and his retail book and stationery operation supplied textbooks to many generations of school children. He was also secretary of the Library Board for twenty years, secretary of the Home Curling Club, clerk of the Third Division Court of the County of York, and an active member of several fraternal lodges.

Like Matthew Teefy a generation earlier, Thomas McMahon knew just about everything that went on in Richmond Hill.
The Home-Laundry Proprietress - Susannah Maxwell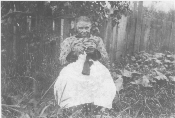 Susannah Maxwell. (1805-1922). Richmond Hill's and Canada's oldest citizen at the time of her death.

Susannah Maxwell was the exception - the person of the wrong colour, the wrong socio-economic class, and the wrong gender in the overwhelmingly British, middle-class, male-dominated society of late-nineteenth-century Richmond Hill.

Born to free black parents on March 10, 1805, in Lancaster County, Pennsylvania, Maxwell and her husband narrowly escaped being kidnapped into slavery in 1861. They fled to Upper Canada, where slavery had earlier been abolished, lived a while in Toronto, then settled in Richmond Hill.

Mrs. Maxwell lived out her life in "The Brick Tenement," four attached houses on the east side of Yonge Street at the south end of the village. She and her daughter Tillie ran a home-laundry business from that location. Her husband and her other four children had died many years before. On her one-hundredth birthday, she was honoured by the Richmond Hill Presbyterian Church.

When she died on February 12, 1923, at the age of 116, Mrs. Maxwell was Canada's oldest citizen.