Richmond Hill's Lacrosse Champs
On June 4, 1885, Richmond Hill's "Young Canadians" lacrosse team trounced Brampton in three straight games to win the Western Division championship. The match took place on the village's "New Park Ground," before a grandstand "packed with ladies" and a noisy Cornet Cornet Band that blared forth "during play stoppages."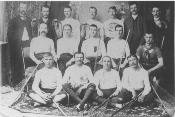 The Young Canadians, Richmond Hill's championship lacrosse team of the 1880s. Top row, left to right: M. Wilson (field captain), F. Powell,McConaghy, J.S.S. Searle,B.R.Brown,H.A. Nicholls (umpire), Walter Wiley. Middle row: G. Derry,C. Skeele,J. Piper,C. Savage,M. Palmer. Front row: Sunny Mager,A. Pugsley,T. Young,D. Pugsley.

The Young Canadians were obviously inspired by their new playing field. And they were also better at playing lacrosse than at composing lyrics! Earlier that spring, at an April concert, the team had introduced its new song - "Playing on the New Park Ground," which, The Liberal informed its readers, should be sung to the tune of "Climbing Up the Golden Stairs":
Come all you friends and neighbors,
Now lay aside your labors,
Come with us to the New Park Ground,
Come see us play a game,
Which will sustain our fame
Playing on the New Park Ground.

Chorus
O hear the boys a singing,
There's music in the sound,
O see their sticks a swinging,
Playing on the New Park Ground.