Pure Water and Healthy Children
The new arena was but one of many highly visible structures that marked Richmond Hill's transformation from a sleepy late-nineteenth-century village to a bustling twentieth-century community during the decade of the 1920s. But that transformation was also brought about by changes in the less visible infrastructure.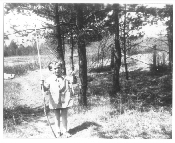 Young Alex Carson displays his day's catch of fish from the Mill Pond.

In 1921, for example, village council built a dam and pump house at the south end of the Mill Pond on Mill Street to supply a municipal waterworks system. The water was drawn from the pond through filter beds, stored in a water tower on Trench Street with a capacity of 60,000 gallons (about 230,000 litres), and distributed by pipe to community residents and business establishments.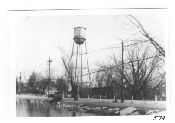 Water tower at the Mill Pond, built in 1921 and demolished in April 1962.

The water tower may have been impressive, but its contents were no taste treat. During her first visits to Richmond Hill in the early 1920s, community historian Mary Dawson remembered complaining "bitterly of the weedy, brackish taste of the water." Since the south end of the Mill Pond became covered "with a thick coating of revolting looking green scum" during the hottest days of summer, such complaints were no doubt justified. 4

Acting on such complaints and regularly inspecting the water supply were the responsibility of the local Board of Health and its medical officer of health, Dr. J.P. Wilson. In mid-August of 1924, for example, Dr. Wilson warned Richmond Hill residents that village water was unsafe for domestic use without first being boiled. A week later, he reported the water much improved, but it still required boiling. 5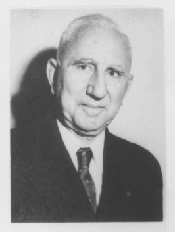 Dr. John P. Wilson (1886-1965). Born in Albion Township and a graduate of the University of Toronto medical School, Dr. Wilson set up practice in Richmond Hill in the fall of 1918, during the bad influenza epidemic. He and Dr. Rolph Langstaff took yearly turns as medical officer of health for Richmond Hill during the 1920s. Wilson served three years on village council in the 1940s, and was active in community affairs even after his formal retirement from medicine in 1962.

By 1927, council decided to move the intake to the north end of the Mill Pond, where the water was judged to be purer, cleaner, and better-tasting. Not all north-end property owners applauded this change - one fought expropriation of land and another sued the village for flood damage allegedly caused by the new dam. But work proceeded through the summer of 1928 and the northern intake was hooked up.

With a supply of healthier and better-tasting municipal water established, the Board of Health could address other concerns. During 1927, for example, it enforced quarantine regulations, supervised vaccination programs in schools, sent samples of milk for testing in provincial laboratories, and appointed a veterinarian to inspect local dairy herds. The medical health officer, Dr. Wilson, also dealt with less glamorous matters: complaints about septic tank overflows, water lying in ditches, dead animals on vacant lots, manure piles, water in cellars, and in one case, even "odors from a neighbour's wash water." 6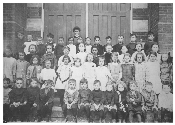 Mary Lillian McConaghy and her class, pictured on the front steps of the Richmond Hill Public School in 1915. Front row, left to right: - Innes,Laverne Wright, -, -, Doc Atkinson,Lewis Sims,Art Leach,Bill Innes,Jim Grainger,Alfred Grainger,- Burns,- Warren Second row: -, -, Bertha Hopper,Alice Innes,- Stong,- Tindall, -, -, -, -, - Battie,- Smith,Audrey Tuck Third row: - Smith,- Battie,Ida Blanchard,Isobel Wilson,- Raymer,Betty Hewetson,- Smith Back row: -, -, Peter Savage, -, - Flanigan; Donald Wren, -, -, -, -, Ted Bennett,Bert Grainge

Children's health remained the most visible public concern through the 1920s. Of the 1316 Richmond Hill,Markham Township, and Markham Village school children inspected by a nurse-doctor team in 1929, only 35 were found to be without apparent physical defects. Poor teeth topped the list of deficiencies, followed by abnormal tonsils, defective nasal breathing, malnutrition, defective vision, and defective hearing. 7 With such results before them, Richmond Hill residents voted by plebiscite for a public health nursing program, which allowed nurses to make regular physical examinations of children at Richmond Hill Public School. No doubt similar concerns prompted the school board to replace the old outdoor toilets with chemical ones about 1928.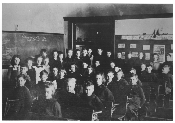 Room 4, Richmond Hill Public School, in 1922. Pupils sit upright in double desks, hands behind their backs, ready for the serious task of learning.

But learning and discipline remained the major responsibilities of the public school during the decade of the 1920s. Before school and at recess, boys and girls played in separate parts of the school yard, kept apart by a board fence. The end of their temporary freedom was announced when Principal Walter Scott rang a handbell and the boys and girls had to line up at their separate doors. As the children marched into the halls, teacher Mrs. McConaghy played "An English Country Garden" on the piano, while "on days when he felt exuberant, Mr. Scott would keep time with his softly tinkling hand bell." 8

Inside the classrooms, learning was serious business and discipline was quite harsh. Even the extracurricular activities were challenging - Mr. Scott's mental arithmetic contests at noon hour; an annual public speaking contest sponsored by the Women's Institute; garden plots, where pupils planted seeds in the spring and displayed their produce and flower arrangements in the fall.

In the end, most graduates of Richmond Hill Public School probably reserved their fondest memories for Mrs. McConaghy. A daughter of Dr. James and Mary Ann Langstaff and a great-granddaughter of Abner and Mercy Miles,Mary Lillian McConaghy taught at the school for forty years. She remained a revered community figure long after she retired, and - like her brother Rolph - lived to celebrate her one-hundredth birthday. Today, the building in which she taught for four decades serves the community's senior citizens and celebrates her name as the M.L. McConaghy Centre.

Youngsters who passed through Mrs. McConaghy's hands during the 1920s, completed eight grades at the public school, and passed the provincially administered Entrance Examination moved on to Richmond Hill High School, where they were joined by pupils coming into town from elementary schools throughout much of York County. Teenagers from both town and country then settled into a provincially determined program that was even more highly regimented and tightly controlled than elementary school curriculum. Many dropped out after a year or two of high school and joined the labour force; others diligently worked their way through four or five years to Junior or Senior Matriculation.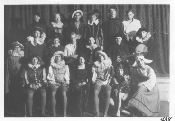 Cast for a production of Shakespeare's "Twelfth Night," Richmond Hill High School, 1925.

Secondary school enrolment rose noticeably during the early 1920s once tuition fees were abolished and more stringent provincial attendance regulations were enforced. The old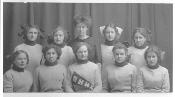 Young athletes at Richmond Hill High School in the 1920s.

Richmond Hill High School at the southwest corner of Yonge and Wright streets became too small, and was replaced by a new building farther west, on the north side of Wright Street. This new two-storey, $100,000 building housed eight classrooms, plus a basement gymnasium, library, and office, and it was surrounded by a large playing field. 9 The structure survives today as the centre section of the expanded Richmond Hill High School, while the older 1897 edifice eventually became the Municipal Building.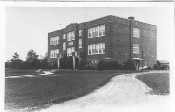 The new Richmond Hill High School of 1924, the core of the current high school building on Wright Street.

The new building, which was opened on December 5, 1924, confirmed the village's strategic role in secondary education along Yonge Street. Half a century earlier, Richmond Hill had boasted the only high school between Toronto and Newmarket; in the early 1920s it could still claim the only secondary institution between Toronto and Aurora. So students had long come into town from south and north and from east and west to attend classes. Figures for 1922, for example, showed that only 18 per cent of the pupils were from the village itself, while 82 per cent came in from the surrounding area. 10 Some of the rural pupils boarded in town; others came by radial car or bus or bicycle. Two young men in the mid-1920s rode in on horses from Headford.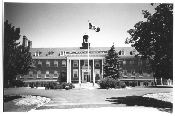 The Loyal True Blue and Orange Home,Yonge Street North, opened in 1923. Roger Carlsen

Hundreds of county children who had been placed in temporary care away from their families, lived and went to school at the Orange Home on Yonge Street north of the village. The institution opened in 1923 under the sponsorship of the Orange Lodge, which gave the place the lofty moniker of the "Loyal True Blue and Orange Home." Its stated purpose was to give children a Christian upbringing, "approaching as nearly as possible that received in a normal family home."

Many Richmond Hill residents gathered in front of the Home at 4:00 p.m. on July 2, 1923, to watch the first children arrive. The large building contained dormitory rooms, a chapel, an infirmary, dining hall, lounges, and three classrooms. By 1925, the home housed 148 youngsters, all under the firm control of a matron, assistant matron, two teachers, boys' supervisor, girls' supervisor, and support staff.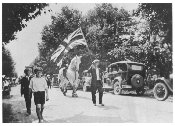 A 12th of July Orange Parade in Richmond Hill, featuring the Union Jack and "King Billy" on his white horse.

Despite its internal school arrangements and largely self-contained world, the Home became a part of the Richmond Hill community. Children came into the village to attend church each Sunday, and donations to the Orange Home made by local residents were noted in the columns of The Liberal. It was quite appropriate that, scarcely a month after the Home's opening in 1923, two of its residents were chosen to lead the parade that launched Richmond Hill's fiftieth anniversary of incorporation and the Grand Re-Union of Old Boys and Girls.
Notes
4. Mary Dawson,"Waterworks System Brought Complaints,"The Liberal,March 7, 1979.
5. Mary Dawson,"Flashback: In Years Gone By,"The Liberal,September 7, 1967.
6. Mary Dawson,"Yesterdays,"The Liberal,May 16, 1979.
7. Mary Dawson,"Shocking Figures Led to First Health Service,"The Liberal,March 28, 1979.
8. Peter N. Ross,"Education in Richmond Hill, 1811-1961," Local History Collection, Richmond Hill Public Library.
10. The Liberal,December 7, 1922.
---
Previous
Next
---
---
Copyright © Richmond Hill Public Library Board, 1991