Between Old and New
The new arena, the waterworks system, and the modern high school were all very impressive but they were expensive to build. The details of their cost and construction provided fodder for discussion over back fences and around dinner tables in Richmond Hill through the 1920s. Yet in each case, the proponents of the new persuaded council members and ratepayers that such improvements and upgrading were necessary to complement a postwar twentieth-century community.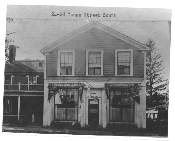 The Rustic Inn on the west side of Yonge Street at Nos. 24-28 South. The business was begun by Daniel Stong in the 1920s, and continued by his daughter and son-in-law, Ethel and James Wigmore, as an ice cream parlour, restaurant, and boarding house.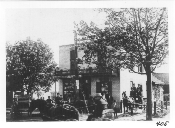 F.E. Sims General Store on the east side of Yonge Street, north of the radial railway station.
Interior view of the F.E. Sims General Store.

With the floral industry still providing a major impetus, Richmond Hill continued to grow during the 1920s. Population jumped more than 20 per cent during the decade, from 1055 to 1295. Older homes were renovated and new houses built on recently opened streets on the east and west sides of town. There was plenty of commercial activity along Yonge Street, as new stores and businesses moved in to replace old ones that had expired. Along the highway itself, cars, trucks, and buses had all but eliminated the horse and buggy and were even challenging the radial railway for supremacy.
The Innes Mill at the west end of Richmond Street, south of the Mill Pond, in the 1920s.
Employees of the Innes Mill in the 1920s. Standing are, left to right: - Denby,Isill Tyndall,- Rikey, -, Carnie Marsh,- Neal,Bert Meek,George Sims,Jim Wigmore,Will Innes. Seated: Harry Innes, -, - Teatzell,Teatzell, -, - - Hopper,Bert Bennett,Harry Leach.

Alexander (Alex) Hume recorded many of these changes in the village council minutes. Hume had replaced Matthew Teefy as municipal clerk in 1905 and held the job for the next thirty-seven years. Born in Glasgow, Scotland, in 1858, Hume arrived in Richmond Hill in 1879, where he established a tailoring business and soon became involved in the community as a Methodist Sunday School teacher, private music teacher, and leader of the Richmond Hill Band. But, like his predecessor, Hume became so closely identified with his work as village clerk that many residents believed he - not the reeve and councillors - ran the council.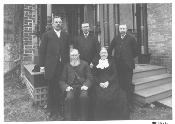 Leslie and Mary (Ritchie) Innes on their 50th wedding anniversary, May 8, 1907, in front of their home at 124 Richmond Street, with their three sons, left to right, Alexander Ritchie Innes,John Leslie Innes, and William Innes.

Council still contended with the age-old duties of appointing officials, setting salaries, listening to complaints, determining mill rates, and collecting taxes. But much more was happening in the 1920s - the financing of public works projects, responding to public health concerns, switching from a private electrical power supplier to the Hydro-Electric Power Commission of Ontario. The offices of clerk, reeve, and councillor demanded more time and attention now, as regular monthly meetings were frequently supplemented by special meetings.
Leslie Innes quotes on materials for the Richmond Hill Public Library.

In spite of all these new issues, however, council still had to deal with a recurrent headache left over from the previous century - what to do about the fire brigade. True, a modicum of stability had been enforced on the fire-fighting scene in the 1880s, and subsequent blazes were quelled without a repeat of the major disasters of the 1860s. But by the beginning of the First World War, with dwindling ranks of volunteers, ineffective leadership, and outdated equipment, Richmond Hill's volunteer fire brigade was again proving an embarrassment to the community. 11
The Richmond Hill Cornet Band.

Finally in 1924, council requested advice from Harold Mills, one of Richmond Hill's major greenhouse operators. Mills suggested major improvements to fire-fighting procedures and the purchase of a motorized fire-truck and other modern equipment - in short, the transformation of a volunteer brigade to a semi-professional force. 12 Council was so impressed by these recommendations that it appointed Harold Mills as fire chief. Mills accepted and then persuaded many of his greenhouse employees to volunteer their services as firefighters. And so, once more, the rose growers came to the rescue of Richmond Hill.
Notes
11. Minutes of Village Council,May 9, 1917;June 12, 1918;July 11, 1918.
12. The Liberal,March 13, 1924.
---
Previous
Next
---
---
Copyright © Richmond Hill Public Library Board, 1991