The First Village Council
On Monday, January 6, 1873, voters of the newly incorporated village of Richmond Hill went to the polls to elect their first municipal council - a reeve and four councillors. The results as announced by the York Herald were: 5
For Reeve

Abraham Law

56

Andrew McNair

47

Dr. John Duncumb

5

Councillors

William Warren

98

Jacob Brillinger

83

William Powell

77

David Hopkins

62

James Freek

58

J.R. Arnold

42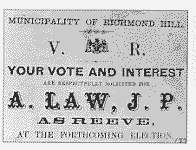 Abraham Law solicits votes for reeve in Richmond Hill's first municipal election.

The five successful candidates represented a combination of Yonge Street business interests and agricultural concerns - Law owned a tannery and Hopkins ran a general store, while Warren,Brillinger, and Powell were farmers. On January 20, promptly at 12:00 noon, they began their first meeting in the Division Court Room, located in the Robin Hood Hotel. Regular monthly meetings, supplemented by occasional special meetings, became the norm.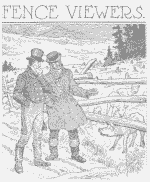 Municipal "fence viewers," a remnant of pioneer Upper Canada, were still being appointed in the newly incorporated village of Richmond Hill in 1873. C.W. Jefferys,The Picture Gallery of Canadian History,Ryerson Press

Civic appointments dominated the agenda of the first meeting as friends of the council members waited anxiously for patronage jobs. Postmaster Matthew Teefy was named village clerk and treasurer, a choice position he held for the next thirty-one years. Additional 1873 council appointees included the following citizens:
George A. Barnard and Robert Law (the reeve's son) as auditors
Dennis O'Brien as assessor
John Brown as licence inspector
John Velie (owner of the hotel where council met) as pound keeper
Benjamin Davidson as overseer of highways
Frederick Crawford as fire and nuisance officer
Robert Robinson,James Freek, and John Arnold as fence viewers
James Daniels as collector of dog taxes
Subsequent meetings saw a succession of bylaws adopted, as council hammered out its role as an arbiter of community life:
February: Determined conditions for tavern and shop licences.
March: Decided on standards for licensing "exhibitions of Waxworks & Menageries & Circuses."
April: Passed a "Public Nuisances" bylaw which set terms for snow, ice, and dirt removal.
May: Gave a pound keeper authority to "restrain and regulate the running at large of any animals or poultry."
June: Authorized a survey of village boundaries.
(Councillors took July and August off.)
September: Determined assessments for county, village, and school purposes.
October: Voted to impose a dog tax.
November: Amended the Public Nuisances bylaw of the previous April.
December: Made arrangements for the annual civic election.
Abraham Law, first reeve of Richmond Hill, 1873.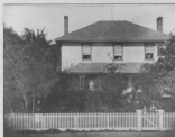 " Richmond Villa," home of the Abraham Law family, on the northwest corner of Yonge and Richmond streets, built about 1853. Mrs. Elizabeth (Klinck) Lawis pictured on the verandah.

But the major issue facing Richmond Hill's first council was the building of a new high school. Increased enrolment was straining the capacity of the old grammar school erected alongside the common school twenty years earlier. Further increases seemed likely, since provincial legislation of 1871 brought secondary education more closely under public control and began shifting the financial burden from private tuition fees to public tax monies. (Under new regulations, the Richmond Hill "Grammar" School became Richmond Hill "High" School).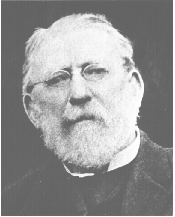 Matthew Teefy 1822-1911
Matthew Teefy, longtime village postmaster and secretary-treasurer, pictured with his three daughters on the front porch of the Richmond Hill Post Office.

Original plans for a new high school structure were apparently quite ambitious - a $10,000 "large and magnificent building" which the York Herald quickly dubbed a "castle." 6 Fortunately, the more cautious trustees prevailed, and the school board settled for a $3,170 building, of which just $1,170 had to be raised from the high school district. But the financial picture changed when the York County Council reduced the boundaries of the high school district to coincide with the area of the newly incorporated village.

Richmond Hill residents interpreted that move as showing an anti-education or anti-urban bias on the part of the county. Whatever the explanation, it severely reduced the educational tax base and placed the responsibility for financing the new high school totally on the village. After public meetings, legal advice, and much soul searching, Richmond Hill council decided to raise the money for the school board through a special levy, which allowed high school students to move into their new building in November 1873.

The high school's heavy debt probably discouraged council from spending much in other areas that first year. Only $201.69 was spent on street improvements, for example, in all of 1873. Yet gradually, through its first decade of existence, the municipal council carved out a more active role in village life. We can get some sense of the council's activities by looking at minutes of their monthly meetings:
Building and repairing sidewalks: board or "plank" walkways two metres wide along Yonge Street and one metre wide on side streets.
Opening new roadways, such as Trench Street, a north-south connection between Richmond and Mill streets in the western part of the village.
Purchasing second-hand gas-fired street lamps at four dollars each, from the Village of Yorkville, for the illumination of Yonge Street.
Providing short-term, limited financial assistance for "indigent persons," for the "aged and infirm," for tramps and for destitute widows. 7
William and Christina (Whelpton) Harrison. The community's first historian, William Harrison was Richmond Hill's second reeve in 1874.

In spite of decisions like these, Richmond Hill's municipal government remained a small operation through the decade of the 1870s. By 1877, the village's population stood at just 659 persons, 151 of whom were ratepayers. (That year's head count also turned up 67 cattle, 45 sheep, 80 hogs, 105 horses, and 41 dogs residing inside village limits!) A real estate assessment of $128,335.00 produced $1,667.00 in municipal taxes and $1,060 for school purposes. Expenses included $365.00 for municipal salaries and $287.00 for roads and bridges.
A residence built and put up for sale in 1885 by William Harrison at 17 Elizabeth Street North.

The council's significance was further reduced as the initial euphoria of incorporation shifted into a kind of public apathy toward municipal affairs. "The great trouble in this village," pronounced the The Liberal in 1879, "appears to be that the inhabitants take but very little interest in the doings of the Council or in the election of members." In an attempt to rouse some interest, the editor produced a lengthy list of prominent names as potential candidates for council elections. "Let them all come out, and we'll have an interesting election day!" 8

Still, council seats were filled, business was transacted, and accomplishments recorded. After seventeen years of incorporation, noted village historian William Harrison in 1889, Richmond Hill council had laid sidewalks along principal streets, improved the condition of those roads, acquired park land, provided a well-trained volunteer fire brigade, and hired a custodian of "perambulating nuisances."
Notes
7. George W.J. Duncan,"Social Welfare in 1870's Richmond Hill," Richmond Hill Public Library, Local History Collection.
8. The Liberal,December 25, 1879.
---
Previous
Next
---
---
Copyright © Richmond Hill Public Library Board, 1991