Carrville,Patterson, and Temperanceville
West of Richmond Hill, along or to the west of today's Bathurst Street, lay yet another cluster of mid-nineteenth-century rural hamlets. The southernmost of these, Carrville, stretched west from Bathurst along Rutherford Road, lying mostly outside the present boundaries of Richmond Hill, though close enough to have a continuing relationship with the town.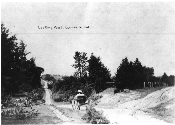 Looking west along Carrville Road in the nineteenth century.

Carrville owed its beginnings to flour and sawmills started about 1820 by Michael Fisher, and enlarged and modernized over the years by a succession of owners. Thomas Cook began a small store in 1844, an Evangelical Methodist church was erected about 1856, and a Methodist church was built in 1857 on the northeast corner of Carrville Road and Bathurst Street, and a post office was established in 1865. Unlike Headford and Dollar to the east, Carrville survives as a recognizable community today, and its name is perpetuated in Richmond Hill itself by Carrville Road.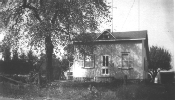 Joseph Grainger home on Carrville Road, west of Yonge Street, built in 1865.
One concession road north of Carrville, on today's Major Mackenzie Drive, and also to the west of Bathurst Street, stood the community of Patterson. This hamlet grew around an agricultural implement factory established by Peter Patterson and his brothers Alfred and Robert in 1855. To accompany this manufacturing enterprise, Patterson Brothers established their own "company town." The community of Patterson - sometimes referred to as the "The Patch" by many local residents - included some twenty-five cottages for married employees, a boarding house for single workers, and a population of about two hundred people by 1871. There was a Methodist Church and a post office, and a school was established in 1872.
Pupils and teacher at Patterson School, September 1898.

Although technically beyond today's town boundaries, Patterson was very closely linked with Richmond Hill. Business generated by Patterson employees and managers who went into town to shop added immensely to the local economy. And many Richmond Hill men worked in Patterson, commuting by foot on a wooden sidewalk that stretched from Yonge Street along Vaughan Sideroad(Major Mackenzie Drive) to the factory site. Local residents long remembered the sight of the men trudging home on dark winter evenings, in a long single file, using torches to light the way.

Further north at Bathurst Street and King Road stood yet another neighbouring hamlet - Love's Corners, named for the Love family. But moderation triumped over passion, and the settlement was renamed Temperanceville for the growing nineteeenth-century temperance campaign to limit or stop the sale and consumption of alcohol. This reform movement grew stronger with each passing decade, and would eventually cripple much of Richmond Hill's hotel business.
---
Previous
Next
---
---
Copyright © Richmond Hill Public Library Board, 1991