Headford and Dollar
Headford in 1860, adapted by Janet Allin from a map prepared by Ruth Reaman.

East of Richmond Hill, on present-day Leslie Street just south of Major Mackenzie Drive, the settlement of Headford, or Headford Mills, owed its mid-century prosperity to mill sites rather than Yonge Street travellers. Here, along a headwater tributary of the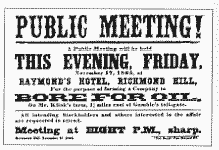 The search for oil at Klink's farm.

Rouge River, were a variety of mills and tradesmen's shops and a general store. A Methodist Episcopal Church was dedicated in 1850 and a post office established in 1856.

Headford even witnessed an outbreak of oil fever in the 1860s. Drilling began on John Burr's land, gas kept bubbling up, but no commercially viable oil was ever extracted. By the early twentieth century, as small mills proved uneconomical, Headford declined and eventually died as a recognizable community.
Headford Public School.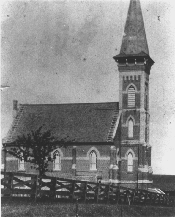 Headford Methodist Church, built in 1882, pictured before lightning destroyed its steeple on August 24, 1914.
Headford Methodist Church, built in 1882, pictured after the lightning strike.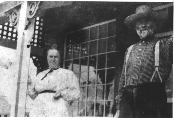 Mr. and Mrs. C. Brooke on the front porch of the Dollar Post Office, July 1, 1907.

Even less recognizable today is Headford's neighbour settlement of Dollar, two sideroads south at Leslie Street and Highway 7. There in the second half of the nineteenth century, Dollar boasted a store, post office, blacksmith shop and church; today Dollar is lost amid the business establishments and industrial parks of late-twentieth-century southern Ontario.
The ladies serve supper at T. Thompson's barn-raising, Headford, June 15, 1909.
---
Previous
Next
---
---
Copyright © Richmond Hill Public Library Board, 1991