Jefferson,Bond Lake,Oak Ridges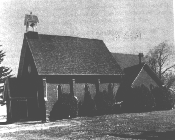 St. John's Anglican Church,Jefferson.

Yonge Street north of Elgin Mills supported a number of small settlements in the middle of the nineteenth century, each with its own claim to continuing fame. Opposite Jefferson Sideroad,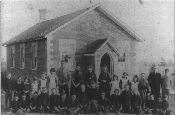 Pupils of Jefferson Public School.

St. John's Anglican Church offered spiritual comfort to the weary traveller. Erected as a wooden frame structure in 1848, the now brick-clad building is the oldest church edifice in present-day Richmond Hill.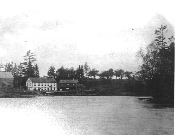 Bond Lake Hotel and stables.

At Bond Lake, comfort of another sort awaited travellers at the well-known Bond Lake Hotel. Built in 1834, the hotel boasted twenty overnight rooms, plus a grand ballroom, and provided the setting for local dances and sleigh-ride parties. Nearby was the fifty-five-acre (twenty-hectare) spring-fed lake itself, which attracted generations of nineteenth-and early twentieth-century swimmers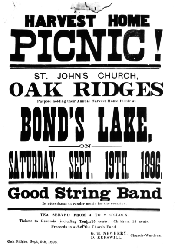 Poster for a picnic at Bond Lake

and boaters in summer months, while curlers and skaters used its frozen ice for their winter sports.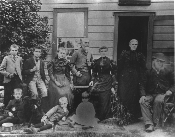 The Routledge family of Oak Ridges. Pictured left to right are: mail carrier C. Harper,Hettie Routledge,Marsh Routledge on the grass, Charlie Routledge,Emma (Mrs. Peter) Routledge,Lucy Routledge,Peter Routledge,John on the grass, Mary Jane Routledge (Peter's sister), and Watson on the grass. Peter Routledge was appointed postmaster at Oak Ridges in 1889, and ran the mail operation from his home.

At Oak Ridges, the mid-nineteenth-century traveller encountered a community nucleus of a hotel, post office, and blacksmith shop. In the early years of the twentieth century, this emerging community would profit from its location at the junction of the Metropolitan and Schomberg & Aurora electric railway lines and from its proximity to summer cottage development around Lake Wilcox. Still later, in the closing decades of the twentieth century, Oak Ridges would become Richmond Hill's major northern commercial and residential area.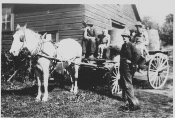 Routledge's blacksmith shop at Oak Ridges, with Walter Mortson in front.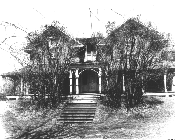 Drynoch, the residence of Captain Martin Macleod, west of Yonge Street and north of Jefferson Sideroad. Macleod built the home in 1846, named it after his home estate in Scotland, and made it the headquarters of his vast 600-acre (about 240-hectare) Canadian farming operation. One of his sons, Colonel James Macleod, achieved fame with the North-West Mounted Police and came to be regarded as a founding father of southern Alberta.
---
Previous
Next
---
---
Copyright © Richmond Hill Public Library Board, 1991